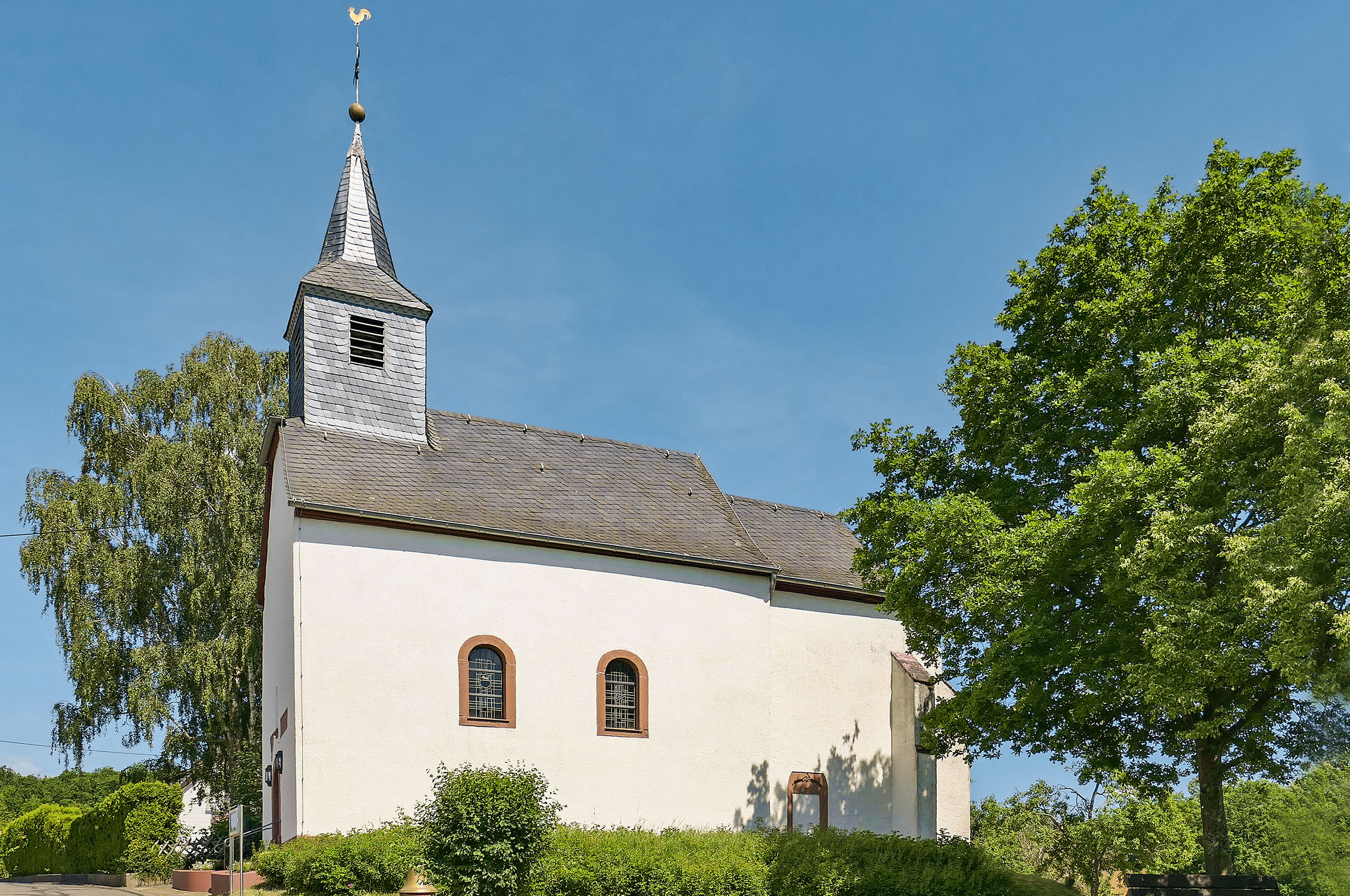 Spätgotische Filialkirche Sankt Nikolaus von 1408
The Eifel Pilgrimage Cycle Route leads us through the community of Esch an der Salm. Its first mention can be found in a document issued by Emperor Frederick I in 1157 for the Benedictine monastery of St. Maximin in Trier.
The von Esch family was one of the most important noble families in the Wittlich region from the 11th to the 16th century. Once it disappeared, the place lost its importance and its two medieval castles fell into ruin. The castle house or tithe house is still preserved today. It had been built by the Archbishop of Trier alongside two tithe barns and 3 stables in 1721. Today, it is considered the oldest house in the community.
The choir of Esch's present-day Catholic filial church of St. Nicholas (49° 53′ 50˝ N / 6° 51′ 03˝ E) with late Gothic windows (Gothic architectural style: 1350-1500) is a relic of the castles of Esch, the seat of the von Esch family from 1157. In 1771, the manorial chapel was rebuilt by the community.
Koppensteinkreuz, 1653 (Bauherr: W.F. von Koppenstein)

The number 1408, which refers to the first construction of the castle chapel, was newly chiselled on during the reconstruction. The parish church of St. George of Sehlem houses the gravestone of Georg von Esch (1532-1560) and a sandstone epitaph/gravestone from the Renaissance (architectural style: 1400-1620) of Amtmann Albrecht von Esch zu Sehlem from 1575. He was an illegitimate son of Philipp von Esch.
Connections to Himmerod abbey and the pilgrimage church of Klausen are proven by the family history of the "Knights of Esch an der Salm": 1) Nobleman Udo IV (1230-1294) spent his retirement in the Himmerod monastery. 2) The von Esch family promoted the creation of the Klausen pilgrimage site and the pilgrimage church by providing land. Gottfried von Esch (1408-1465) found his final resting place in this church. In 1459, he allowed his sons Nikolaus and Johann to build a pilgrims' hostel in Eberhardsklausen.
The pilgrimage church of Klausen houses a grave slab of Philipp von (Otten-) Esch, who appears as "Heiliger Kommholmich" ("Saint Come-Get-Me"). He was worshipped by female pilgrims in search of a good husband. To this end, they put their fingers into the grooves of Philipp's pantaloons. In the vernacular, this was referred to as "Kommholmisch". Whether the pilgrims were successful in their search for a suitable spouse has not been conveyed. It was said, however, that a pilgrimage and the touching of the pantaloons were not enough. There was talk of dried pears that had to be laid at the feet of the Kommholmich.
Philipp von Esch (1488-1535) was the grandson of Gotthard von Esch, who in turn gifted a plot of land to his day labourer Eberhard von Esch to build his devotional chapel in Klausen. Said Eberhard laid the foundation stone for the Klausen pilgrimage church. His way to work in Piesport on the Moselle led him from Esch via Krames and Klausen. In Klausen, he rested on the highest point to gather strength for his further journey. There, the Mother of God appeared to him and asked him to build a small chapel.
Information regarding the text:
Kirchenführer Pfarr- und Wallfahrtskirche Maria Heimsuchung Klausen, Peter Dohms
"Eberhardsklausen", 900 Jahre Krames, Chronicle VG Wittlich-Land

Ritter Philipp von (Otten-)Esch bzw. "Kommholmisch"

Quellen:
Escher Kapelle (S. 868ff) in Hesse, G. & Wiseniewski, A. (1990): Wittlich-Land – Geschichte einer Verbandsgemeinde zwischen Vulkaneifel und Mosel, VG-Chronik.
Kirchenführer 2012: Pfarr- und Wallfahrtskirche Maria Heimsuchung Klausen, Broschüre. Dohm., P. (1985): Eberhardsklausen – Kloster, Kirche & Wallfahrtsort, Buch.

Humility towards life – seeking stillness and praying
Once more I may start anew, another brand new morning, Lord, guide what I think and do, so I'll happily keep going. To do my work, please give me strength, save me from idleness and haste, don't let good fortune make me waste, nor burdens make me faint. Bless, oh Lord, my heart and hands, protect my work from all deceit, so that I, once the day does end, may happily retreat!
Text: Fritz Woike (1890 – 1962)