The clearing village of Hupperath was first mentioned in documents as Humbrecterod in 1173. The 50th parallel runs through the centre of the village (primary school building).
The so-called "Jahrgeding" was held there once a year. All inhabitants were required to attend; those who did not appear were fined. All grievances, misconduct and irregularities committed by inhabitants during the past year were denunciated, tried and punished accordingly. Paths and fences were inspected and had to be repaired, chimneys were inspected four times a year for fire danger. Everything had to be in order.
There is evidence that Hupperath belonged to the monastery of St. Paulin in Trier from 1225. In 1349, the parish was assigned to the parish of Großlittgen as a filial. In 1803, under Napoleonic rule, Minderlittgen and Hupperath were finally separated from Großlittgen again. Hupperath became a parish, Minderlittgen became a filial. The present-day church (49° 59′ 48 ˝ N / 6° 50′ 01˝ E) is a five-axis aisleless building with a three-sided choir termination and a ridge turret. It was built in 1786 (classicism style: 1770-1840). In 1856, the church was extended by two axes. In 1863, the foundation stone was laid for the new rectory.
The patron saint of the church – Saint Hubertus – had not been a saint initially. Hubertus went hunting on Good Friday, spotted a stag and aimed his crossbow at it. Suddenly, the animal stood, turned around and a radiant cross appeared in its antlers. "Hubertus, I deliver you and yet you persecute me!", a voice rang out. Hearing this, Hubertus threw away his weapon, broke with his previous life and became a saint. Today, he is the patron saint of hunters.
In times of hardship, relatives send adults and children to the seven Hupperath crosses to pray there. The cemetery cross south of the church was fashioned in the form of a baroque crucifixion shrine in 1719. Instead of the original crucifixion group, it now holds a neo-Gothic crucifix.
It is remarkable that all seven crosses can still be found in Hupperath. Six crosses have already been restored. The seventh cross will be rebuilt from wood, as it had been originally, and will probably be erected once again in the summer of 2021 in the same place at the "Wiesendamm".
One legend from Hupperath is about the Bruderheide, which is located between Bergweiler and Hupperath in a piece of woodland (750 m SE of the church). The following tale is told of the interpretation of its name: Once there lived two brothers in solitude, one a Christian, the other a pagan. For an unknown reason, they once got into such a quarrel that the pagan killed his brother. After that, he avoided people even more than before and built caves and mounds to be safe from them. These mounds can still be seen today. Historically, however, the name may be interpreted as meaning that this heathland once belonged to a monastery. After all, monastery residents are called brothers.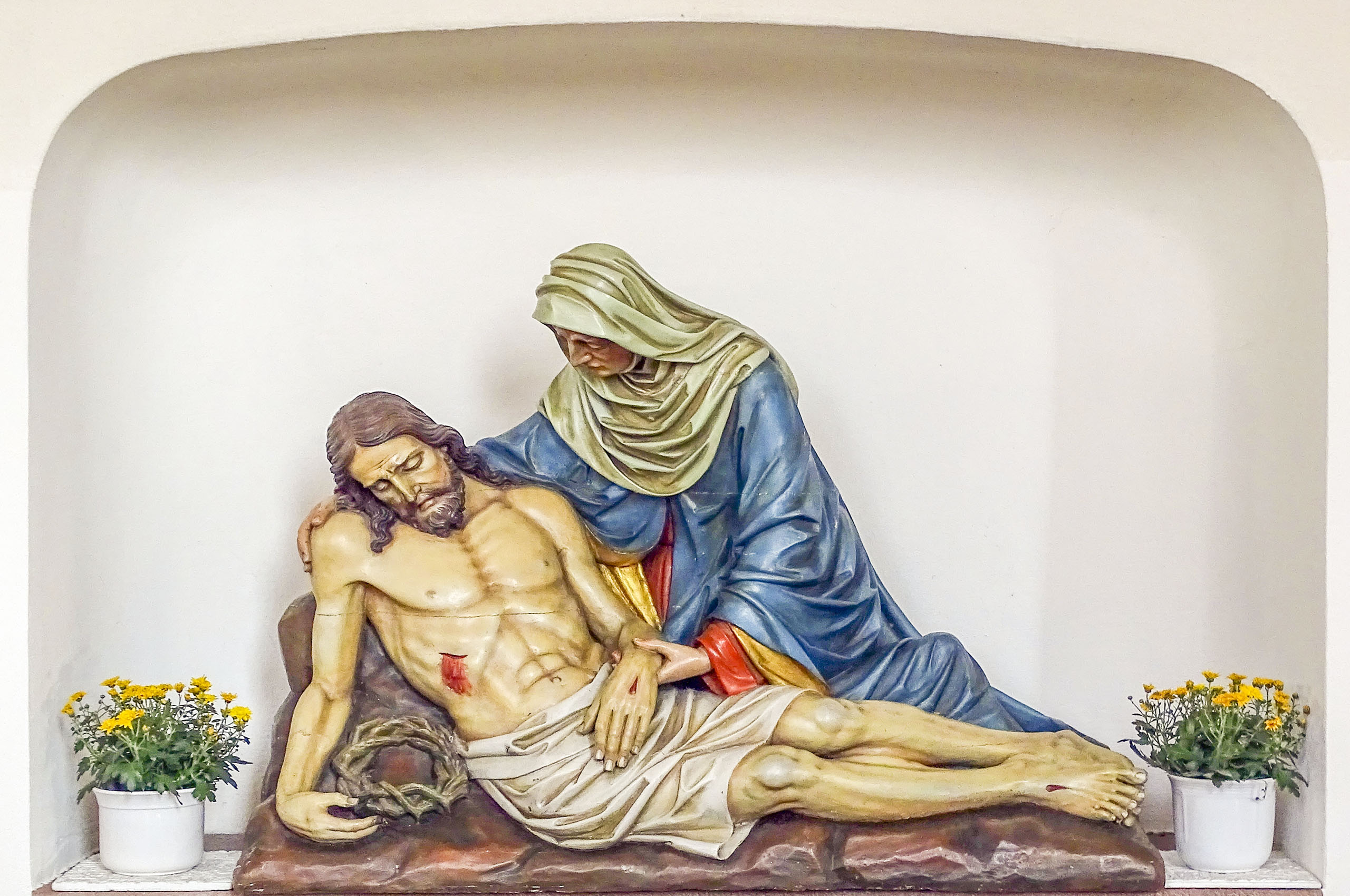 Skulptur der Maria Magdalena mit dem gekreuzigten Jesus Christus im Inneren der Kirche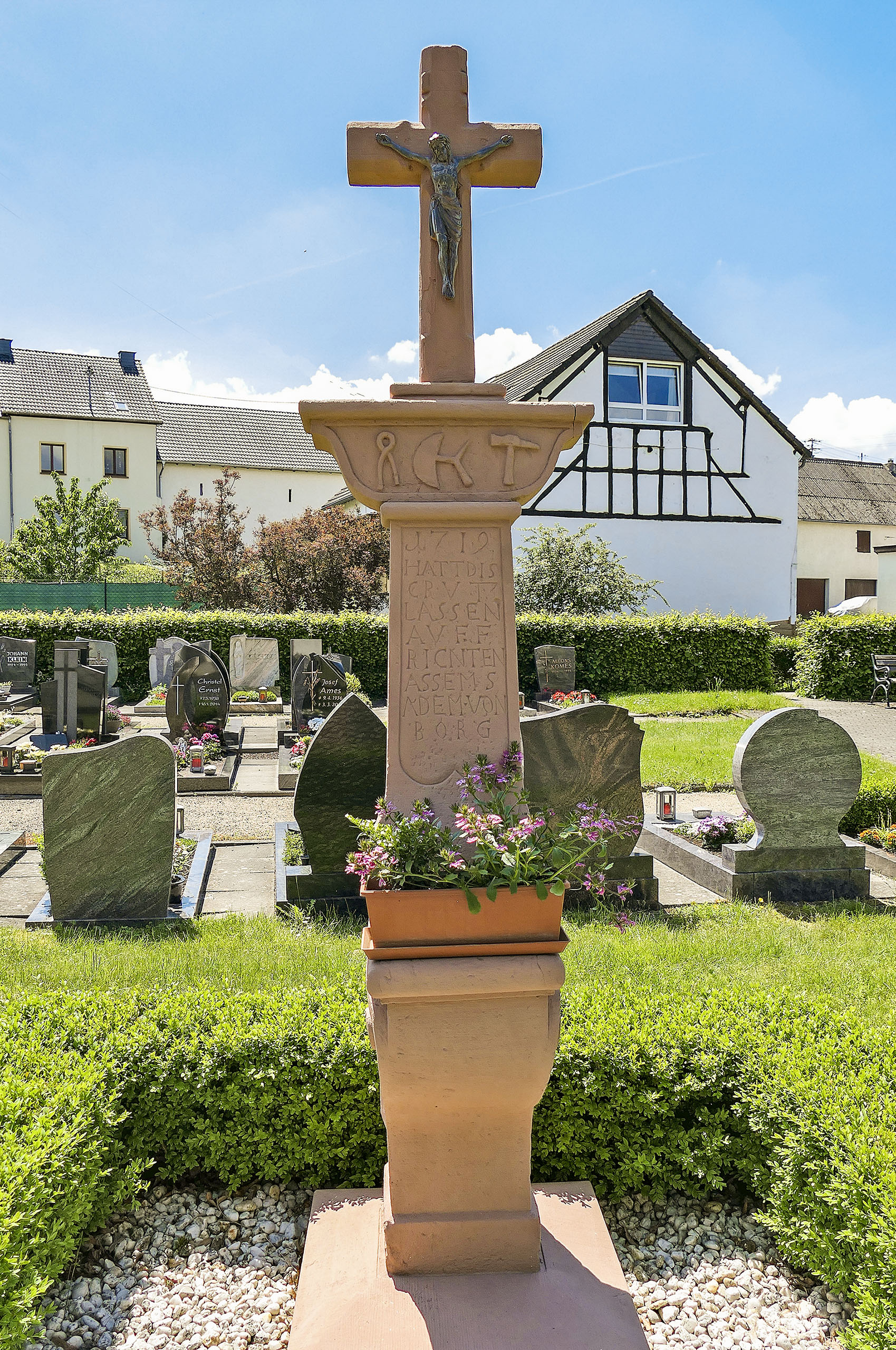 Barocker Kreuzigungsbildstock mit neugotischem Kruzifix auf dem Kirchen-Friedhof
Quellen:
Gemeinde Hupperath (1973): Hupperath 800 Jahre, Chronik zur 800-Jahrfeier.
Lieser, P. (2009): Eine Dorf im Wandel der Zeit, PDF unter hupperath.de
Pfarrei Hupperath (S. 1167ff) in Hesse, G. & Wiseniewski, A. (1990): Wittlich-Land – Geschichte einer Verbandsgemeinde zwischen Vulkaneifel und Mosel, VG-Chronik.

Being intentional – seeing, learning and wondering
The church of nature The forest is much like a church, enter with devotion. You are alone with God as birds sing songs of meditation. You will find cathedrals, halls, and chapels large and small. Benches covered all in moss, a kind and quiet prayer call. Look around at forest giants, standing tall and proud. Feel the almightiness of God in every tree and shrub about. You'll understand the whispers and the birdsong all around! Heavy hearts through forest magic go on to leap and bound. So, to forget your suffering or see a graceful way, go straight into the forest's heart, you'll never go astray. The doors to this cathedral in the grove shall stay unsealed, for you to cry, pray, hope, forget – so enter at your will!
Text: Georg Graf zu Münster (1776 – 1844)